Hugh Switzman
Nom de plume Noel Walker
Having spent the past 17 years perfecting his interest in philosophy, combined with his true passion of helping others… enabled him to write his books. No mean feat for a person who was also kept busy in his early years working as a recruitment consultant and raising a family, latterly founding 'OpenLeaf' Life Coaching & Mentoring and 'OL Publishing'.
His drive, was to discover a logical and reasonable explanation as to the way things are. By doing so… it also led to the discovery of a revolutionary line of thinking.
One benefit has been the opportunity for YOU… to now discover and see how ALL connects and in doing so, to also discover the techniques to bring about the life you so truly want.
What people have said;
so many self-help books and courses are just too general

unique viewpoint from Noel Walker

he has the ability to home in on the areas you need to develop with amazing accuracy

with Noel Walker, it is a unique personalised self-development programme

no other person has given me the one-to-one coaching that Noel Walker has. He has outstanding insight and turns that around to make sure you do not fail yourself

his one-to-one coaching is encouraging and not damning – he really gets to know the real you and not the facade

he is always thoughtful and at times provoking, but always fair and honest

you are able to realise your negatives into positives with his guidance

self doubt is now part of your past
Sounds too good to be true…
The opportunity to experience passion, purpose and vitality – quite simply, fulfilment; to have all you truly want and more (from relationships to 'health, wealth and happiness') and lastly, to be able to experience all on an ongoing basis…  See for yourself. Read and follow a REAL life blog – a mother of 2 and her experiences click here
If you have any questions and/or would like the opportunity to possibly be mentored by Noel, for more information click here.
But…
If it was really possible, surely wouldn't we all be living perfect lives?
A fair question and it is the very one that motivated the founder to keep going. Because even though with all that is around us, the information, the opportunities only a very few, in truth, actually experience those full and rewarding lives, for everyone else it's just a dream but he knew it must be possible… and so kept on until he found that logical, reasonable, all encompassing explanation – and it is an answer that is applicable to all.
OpenLeaf's is here…
To get the information, his work, into your hands… for you to see for yourself – and to be there to work with you, if that is, you wish to accelerate the process.
There are so many self help books and courses out there promising much BUT in reality, little changes (unfortunately) the reason being, they don't definitively answer those fundamental questions of 'why', 'how' and 'what's it all for' nor do they link everything together. Sure they address various elements but certainly not all nor importantly, the true framework we have open and available to us – wouldn't you like to know how to bring about the things you want, the life you'd so truly love to have? Now you have the opportunity to do just that.
Our suggested format is;

1) Gain an overview
READ the Get The Life You Want pocket guide ONLY £7.99 – And gain an overview (as to how everything connects). This little guide covers it all; the framework open to you through to how you too can bring about the life you so truly want (customer reviews below). Once you see how it all connects, and why it works, next.
2) Enrol on our NEW 5 week FastTrack online program

For $114 per week for 5 weeks accelerate the whole process by putting all that you now know into perfect place. Sited on our Academy site www.Open-Leaf.com. You will have the option to either study on your own or join others in a virtual classroom environment, either way, you will experience an easy step by step program designed to enhance your knowledge, access your situation and help you bring about those significant changes (with ease).
Plus… an assigned Mentor, to oversee, there to help and answer any questions. But you can only enrol on this program once you have completed the GTLYW online pocket guide course click here
3) One to One Mentoring and Coaching
'Sounding boards', 'best friends' & 'motivators' have all been terms commonly used. They're here to work with you. Getting you from where you are now to where you want to be, and in the shortest time. Complete the FastTrack program and the hard work is done but they're also here to work with you on a personal basis, if need be. Look upon them as driving instructors, just life orientated!
See what people are saying…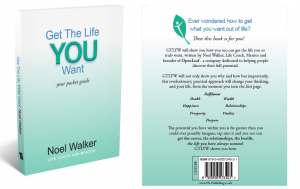 About the 'Get The Life You Want' pocket guide…  Reviews for Noel Walker's first book 'Get The Life You Want' below.
 "Having already read the main book Get the Life you Want (GTLYW), which I refer to over and over, it was very refreshing to read this excellent and concise pocket guide as it enhanced my understanding on the main topics and messages. 
 The book is easy to follow and lays everything out in bite-sized chunks.  I also love the pace of the pocket guide – as I got further into it, it made me want to read it faster due to the exciting way that the author introduces the concepts one by one. 
 At the end it leaves you knowing that it is actually all possible for you to discover how you can be all that you can be, and therefore get the life you want. I would highly recommend."
SM – West Malling
 "The 'Get the Life You Want' pocket guide is a great book, full of tips, exercises, tools and techniques for getting your life back on track and keeping it there. It is bursting with information which is broken down into bite- sized chunks, with a useful summary at the end of each section. Buy it and you won't be able to put it down!"
                                                        HJ – Ashby de la Zouch
"This guide considers opportunities and happiness above all and the fact that by looking into ourselves we can cause this, rather than worrying about how the rest of the world sees us.  We are our own instigators of all that is good in our lives, due to our behaviour and how we treat other people.  Noel reminds us that if things go wrong, we only have to work on ourselves to realise our full potential.
I like the metaphorical examples of a car (knowing how to operate it, just as we should know how to live life) and a flower (as a plant grows and flourishes, so do we) and the fact that everything in life is connected.  The mention of limiting beliefs and how they can be dismissed, or turned into true beliefs, is so important – and I feel this is the main message of the book. 
This pocket guide is such a good way to start exploring one's reasons for wanting to change life for the better and should lead on to a purchase of the main Get The Life You Want book." 
JS – West Lothian
"After losing my partner I was at a very low point in my life with no real direction. Noel Walker changed all that. Rather than stagnating in grief, I am now realising my dreams. As they say, the key to true happiness is discovering how to live our dreams. Don't ever let negativity stop you from pursuing your right to a happy and full life. This pocket guide goes everywhere with me and has certainly shown me how to get the most out of life and live every day to the full…"                  
                                                            CW – Bournemouth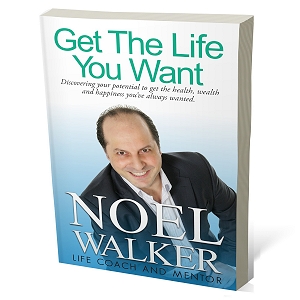 See what people are saying about Noel Walker's first book 'Get The Life You Want'… (Now only available as your detailed 'handbook' on the FastTrack program). For more info click here
"Being a bit of a personal development book junkie I was looking forward to reading 'Get the Life you Want'. What I wasn't prepared for was just how comprehensive the book is. Noel Walker has put everything into this book including real life exercises that you can do to benefit from the step-by-step teachings. I particularly like the chapter summaries as a way to look back over previous chapters at a glance when dipping into the book again. Well worth a read – but don't just read it, take some action!" JD – Hythe
"Where to begin. Knowing that we have potential AND the keys to realising it. That the life we experience, we have a hand in creating. Seeing how it all connects and importantly why – enlightening. Knowing also now how to get the life I want – a breath of fresh air. We would all do well to read this." PS – Newtown
"Enlightening. Positive. "Get The Life You Want" – Buy the book!" RJB – Carno
"An easy read, didn't quite know what to expect, thought provoking. Have recommended to family and friends." RH – Bicester
"This is an interesting book and takes you through the process of understanding where you are with your; life, career, and hobbies. If you just feel that you are plodding through life, you've got a job – but it's just a job, it doesn't inspire you you're just going in every day for the money.
 Noel gets you to think about where you are now in your life, what you want, then helps you move towards your goals, whatever they might be.
Noel explains how you can make the right decisions to move your life and ambitions forward towards your dreams.
If your esteem is low then Noel explains how you can boost it with some simple ideas. Your self esteem is vital to you achieving your goals.
At the end of the book Noel brings it all together and explains how you can take what you have learnt and move forward.
I would recommend this book, if you have got stuck and don't know which way to turn or you are sure that there is more to life, you have a dream but you don't know how to turn it into reality, then this is the book for you." SD – Hythe
"Overall, Get the Life you Want is an excellent read bringing together all the common sense things that deep down you already know, but put in such a way that will change your life.  These concepts and much more are packed into this extremely interesting and mind-changing book. 
Opportunities that have recently come my way I possibly would have shied away from, had I not been armed with the many key messages given. 
 Although having just finished reading 'Get the Life you Want', it is a book I will refer to over and over.  I thoroughly recommend it to anyone wanting to discover their true potential." SM – West Malling
 "I expected a book full of the annoying language of positive books, but I was very much surprised by the author's logical approach, which actually makes sense every step of the way. A lot of things make sense once you read this book, it's truly enlightening." LG – Chester
To follow him on… Facebook: www.facebook/GTLYW and on Twitter: @GTLYW
It is your life but…. 
If there is something you're not happy with, you're stuck in a rut, you don't know which direction to go in, job to go for or just can't get the answers, work or the relationships you want… the list goes on, for only £7.99 you can get not only an incredible overview (as to how all connects) but also the answers you seek! Use this opportunity to discover the life that is potentially out there for you and importantly, how you can very easily change things in order to bring it about for yourself.
To sum up…
We, at OpenLeaf, are here to work with you, to discover your potential and then help you realise it.
How?
By utilising our philosophy, framework and model, we are able to work with you.
Benefits:
Happiness
Health & vitality
Fulfilment
Passion
Purpose
Prosperity
The life you want
The more aligned one is with 'who they are', 'what they're able to do' along with understanding 'why', the more significantly enhanced the above benefits.
 As a result greater:

Clarity
Meaning
Direction
Opportunity
Life experiences experienced.
Take the first step…
Get yourself copy of the Get The Life You Want pocket guide.
To purchase or for more info click here
Did you know…?
Remember, Einstein's definition of insanity;
Doing the same thing…
and expecting a different result!
.
Essentially, if you are not leading and experiencing a happy, healthy and fulfilling life then you're missing out. Why suffer… live a half life or just plain miss out? Get the life you want. There are answers and solutions that can be ideally matched to you – start the ball rolling.
To purchase the Get The Life You Want pocket guide  click here

To enrol on the Get The Life You Want online pocket guide course  click here
Together, we really can make a very real difference.