GTLYW pkt guide
Readers Reviews: Get The Life You Want pocket guide by Noel Walker
The 'Get the Life You Want' pocket guide is a great book, full of tips, exercises, tools and techniques for getting your life back on track and keeping it there. It is bursting with information which is broken down into bite- sized chunks, with a useful summary at the end of each section. Buy it and you won't be able to put it down!.
HJ – Ashby de la Zouch
After losing my partner I was at a very low point in my life with no real direction. Noel Walker changed all that. Rather than stagnating in grief, I am now realising my dreams. As they say, the key to true happiness is discovering how to live our dreams. Don't ever let negativity stop you from pursuing your right to a happy and full life. This pocket guide goes everywhere with me and has certainly shown me how to get the most out of life and live every day to the full….
CW – Bournemouth
This guide considers opportunities and happiness above all and the fact that by looking into ourselves we can cause this, rather than worrying about how the rest of the world sees us.  We are our own instigators of all that is good in our lives, due to our behaviour and how we treat other people.  Noel reminds us that if things go wrong, we only have to work on ourselves to realise our full potential.
I like the metaphorical examples of a car (knowing how to operate it, just as we should know how to live life) and a flower (as a plant grows and flourishes, so do we) and the fact that everything in life is connected.  The mention of limiting beliefs and how they can be dismissed, or turned into true beliefs, is so important – and I feel this is the main message of the book. 
This pocket guide is such a good way to start exploring one's reasons for wanting to change life for the better and should lead on to a purchase of the main Get The Life You Want book.
JS – West Lothian
Having already read the main book Get the Life you Want (GTLYW), which I refer to over and over, it was very refreshing to read this excellent and concise pocket guide as it enhanced my understanding on the main topics and messages. 
 The book is easy to follow and lays everything out in bite-sized chunks.  I also love the pace of the pocket guide – as I got further into it, it made me want to read it faster due to the exciting way that the author introduces the concepts one by one. 
At the end it leaves you knowing that it is actually all possible for you to discover how you can be all that you can be, and therefore get the life you want. I would highly recommend.
SM – West Malling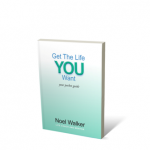 To purchase or for more info & to view the 'back cover' click here
To follow a real life blog – a mum of 2 and her experience click here
.
For more information on Noel Walker click here
On OpenLeaf www.Open-Leaf.co.uk
Follow Noel Walker @GTLYW or www.facebook.com/GTLYW
If you have a review or would like to contact us click here